What Software & Hardware Do I Use?
Posted on

December 22, 2010

in Article
I've had quite a few emails lately with people asking me about the software/hardware I use and if I have any recommendations so I thought it would be a good idea to show you my setup and the equipment I use.

The Setup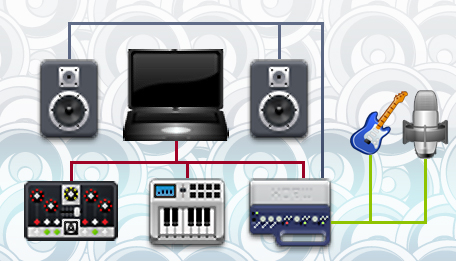 Above you can see my humble set-up, I prefer using a laptop as not only does it allow me to make music on the move, it also allows me to demo projects to clients without having to rely on their equipment or software.
I have a Novation Nocturn, M-Audio Oxygen 8 Keyboard and an M-box all connected to my laptop via USB. M-Audio BX8a monitors are connected to the Mbox using XLR to Jack leads, however when I'm on the move I rely on my trusty Sennheiser HD215 headphones.
Hardware
M-Audio Oxygen8 V2 MIDI Controller Keyboard
Novation Nocturn MIDI Controller (this uses python script for ableton live to give more indepth contol parameters)
M-Audio BX8a Active Monitors
Sennheiser HD215 Headphones
DigiDesign Mbox 2
Custom-build Laptop from PC Specialist.
Software
Windows Vista Home
Pro Tools 8
Ableton Live 8
Reason 4
Synths, Samplers, ROMplers, Effects Etc.
Absynth 5
Battery 3
Evolve Mutations 1 & 2
FM8
Guitar Combos
Guitar Rig 4 Pro
Kore Electro
Massive
Reaktor 5  (I have a programmed a couple of custom synths that I use for Lo-fi/retro sounds)
Synapse Audio Plucked String
Mini Grand
True Strike – Tension
Hybrid
Effectrix
Junglist
Rhino CM
AvatarST Basic
+ Various other instruments and effects
Guitars, Basses Etc
Amp – Marshall MG30dfx
Guitar – Ibanexz RGR421 + Plus Various others (including acoustics and bass)
Digitech RP14 Valve FX Processor
Behringer V-Amp
Zoom 505
Digitech RP50